Shakespeare Series #2:
"Scotland, PA" (2001), directed by Billy Morrissette (who also made a film called "Catch Me If You Can" from 1989, not be confused with the extraordinarily popular Steven Spielberg film of the same name starring Leonardo DiCaprio & Tom Hanks which came out in 2002), is a modern adaptation of Shakespeare's tragedy Macbeth, set against the backdrop of rural Pennsylvania in the 1970's in the fast food industry. It cleverly plays off of the famous franchise "McDonald's" and names the lead couple "McBeth" while they work to turn their dead-end jobs at Duncans Restaurant into a company-wide takeover.
Joe "Mac" McBeth (James Le Gros) and his wife Pat McBeth (Maura Tiernay) are increasingly disgruntled with their stagnant positions at Dunkins fast food restaurant, until Mac encounters a threesome of hippies (Amy Smart, Andy Dick & Timothy Levitch) who predict that he will soon improve the order process by incorporating intercoms in the drive thru after taking a management position. The greed and false ambition of the characters in the aftermath of this "prophecy" sets off a series of colossal events that cannot be undone.
The tone of the film flips between the stoned comedy of "Dazed & Confused" and "Empire Records" and the black comedy of "Get Out." There were earnest attempts to stay close to its Shakespearean roots through various characters and plot drivers. It delivered a stocked cast including Christopher Walken, Maura Tiernay, Amy Smart, and Andy Dick, and had a soundtrack fully by Bad Company. Ultimately, when it comes to the film version of "Scotland, PA," there is plenty to appreciate, but there was more to dislike.
What Worked:
Maura Tiernay (who is known for her performances in Jim Carrey's "Liar Liar" and as the complicated _character name_ in the series "The Affair" alongside Dominic West). She is fantastic here as the abrasive, fed-up, and determined Lady McBeth. Though the script faltered on clarifying her intentions until far too late into the film, and the film, as a whole, was limiting, her performance was strong & there was something particularly spectacular about her bleached streak of hair, gawdy 70's earrings and mania.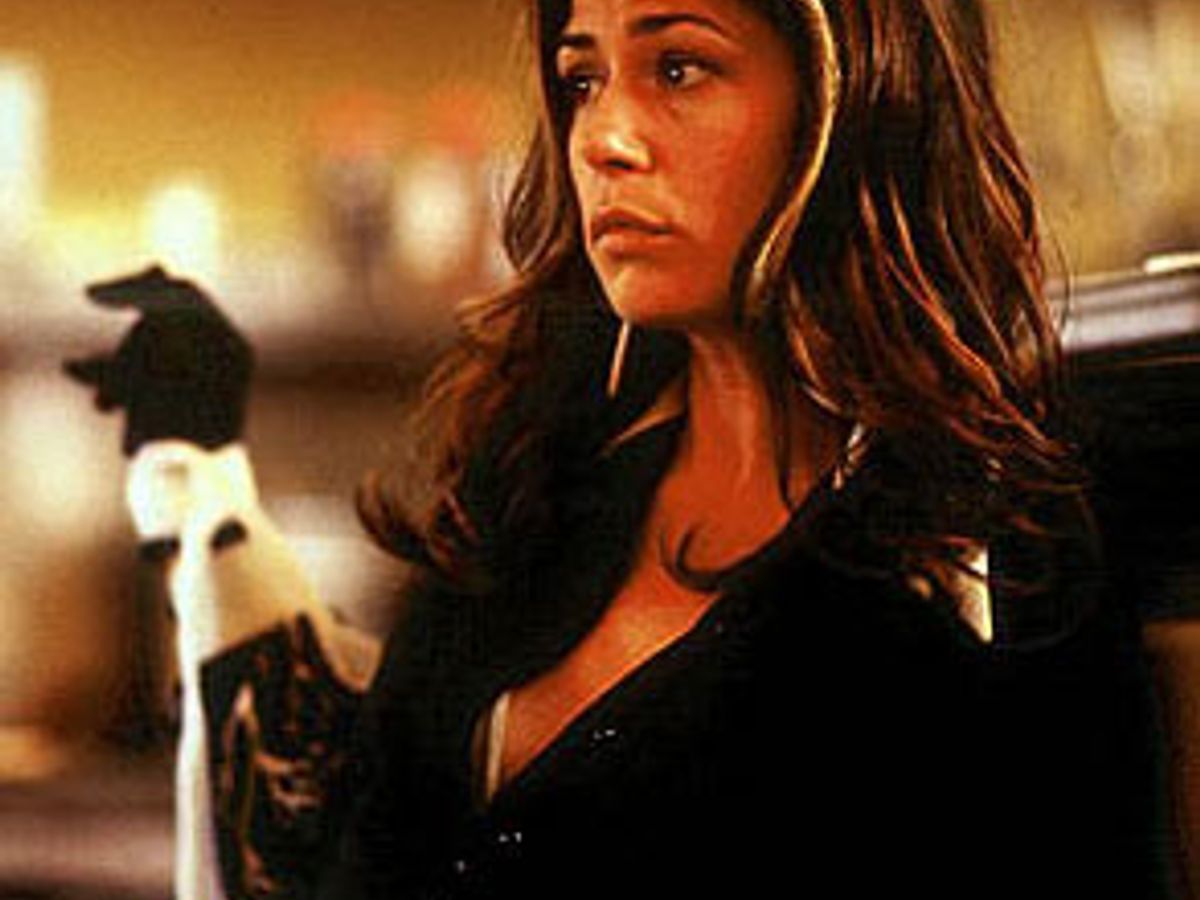 The ways that some of the references to its source material, "Macbeth," were incorporated. Replacing the kingdom that Macbeth lives into a fast-food restaurant called McBeth, dropping the "a" as a reference to McDonalds, was a clever update on the tale. Reimagining Lady Macbeth's bloody hand to a burned hand – a mark from the greaser that haunts her until her tragic demise – proved to be a smooth connection to the original story without feeling too stretched.
The soundtrack that played every time the characters were behaving badly was by a band named Bad Company, supposedly because according to Morrissette their entire catalog was surprisingly inexpensive. This worked well to thread a consistent sound throughout the film and lighten some of the darker material with a sitcom-like score.
Christopher Walken was fantastic as Detective MacDuff and is the redeeming element of this entire film. His unique ability to add flare to every role he is in and make each scene feel surprising was exemplified here in some of his more comedic lines of classic "Police Guy" nature, such as "Let's take a breathe and have a conversation that makes you not guilty" or when he paused to dance with maraca's while interviewing one of the characters – the son of the victim no less. He serves as the film's protagonist and his quotable one-liners and stand-alone good conscience give the audience someone to root for, somewhat. In the film, he says, "I used to be a dancer" and in real life, Christopher Walken indeed started out as an accomplished dancer.
A detail that could have easily been missed – but the podcast Screen Mayhem pointed out: the tan salon is brilliantly called "When a Tan Loves a Woman" and that in itself needs far more recognition.
Mistakes Were Made:
The tone that this was trying to be is extremely ambitious and difficult – would have been better in the hands of the Coen Brothers – but these writers didn't quite nail that tricky balance. The more silly moments and the dark elements were not properly meshed together in a way that worked.
The soundtrack that played every time the characters were behaving badly was by a band named "Bad Company," supposedly because according to Morrissette their entire catalog was surprisingly inexpensive. This worked well to thread a consistent sound throughout the film, but unfortunately, that sound was chaotic and noisy and brought a very overwhelming energy
The stakes aren't really high enough for it to make sense to murder someone… if you're unhappy, get another job. It was difficult to empathize with the characters motivations and without a compelling reason to root for them, it quickly becomes agonizing to watch the consequences of their actions play out.
Do the witches making a prophecy HAVE to be included if its not really motivating the characters? They weren't funny enough nor were they meaningful enough in pushing the story line along to exist at all.
The terrible wigs worn by James Le Gros, Tom Guiry, and Geoff Dunsworth.
Roger Ebert said it best… this film is probably most enjoyable for people who don't know Shakespeare. There is reason to believe that "Scotland, PA" is at its best when it is not through the lens of the more profound material it was derived from. It also would most likely be a more successful film if it let go of its attachments to the source material, freed itself up from the tragic ending, and existed as a dark comedy that was much less dark.
Fun Facts:
The director Billy Morrissette makes a cameo walking his dog in the beginning of the film. He got the idea for setting Macbeth at a restaurant while in high school. He was working at a Dairy Queen in South Windsor, Connecticut, and was "reading a lot of William Shakespeare at the time".
Billy Morrissette and Maura Tierney were married from 1993 to 2006 and were together for the making of this film. They divorced after 13 years of marriage, citing "irreconcilable differences." However, moments from their marriage helped inform the script: Pat McBeth's line "Fuck! Fuck! Fuckity-fuck!" was written into the script because Tierney yelled that once when he startled her.
3. Amy Smart wore a witches hat to the films premiere. Was this a reference to the character she played (a hippie who represented the "witch" from "Macbeth" the play)?
4. The script was adapted to an off-Broadway musical in 2019 by Roundabout Theatre Company.
5. According to the film, the inventions and fads from the 1970s included: fads and inventions depicted in the film are: drive-thru restaurants, vegetarianism, Yahtzee, chicken bites with dipping sauces, tanning salons, the Magic 8 Ball, "MAD" Magazine (with the folding back-page pictures), fondue and streaking.
Costuming/Costume Ideas:
Grab a group of friends and cosplay as McBeth employees, of course!
Food and/or Drink Pairing:
It goes without saying that this movie should be watched with the greasy, fried fast food of your liking. The menu at McBeth's seen briefly during a montage includes the following options: McBeth, McBeth with Cheese, Big McBeth, McBeth McBeth, Fishy McB, Little Chicken McBeth (5 piece), Big Chicken McBeth (8 piece), and fries.
If you're looking for other "Scotland PA" discourse, I recommend Screen Mayhem's episode below:
Here's an alternate poster for the film, which more accurately sets expectations:
Compared to the other poster, which makes it seems like the film is going to be more comparable to the tone of "Burnt" (2015) or "Sweeney Todd" (2007):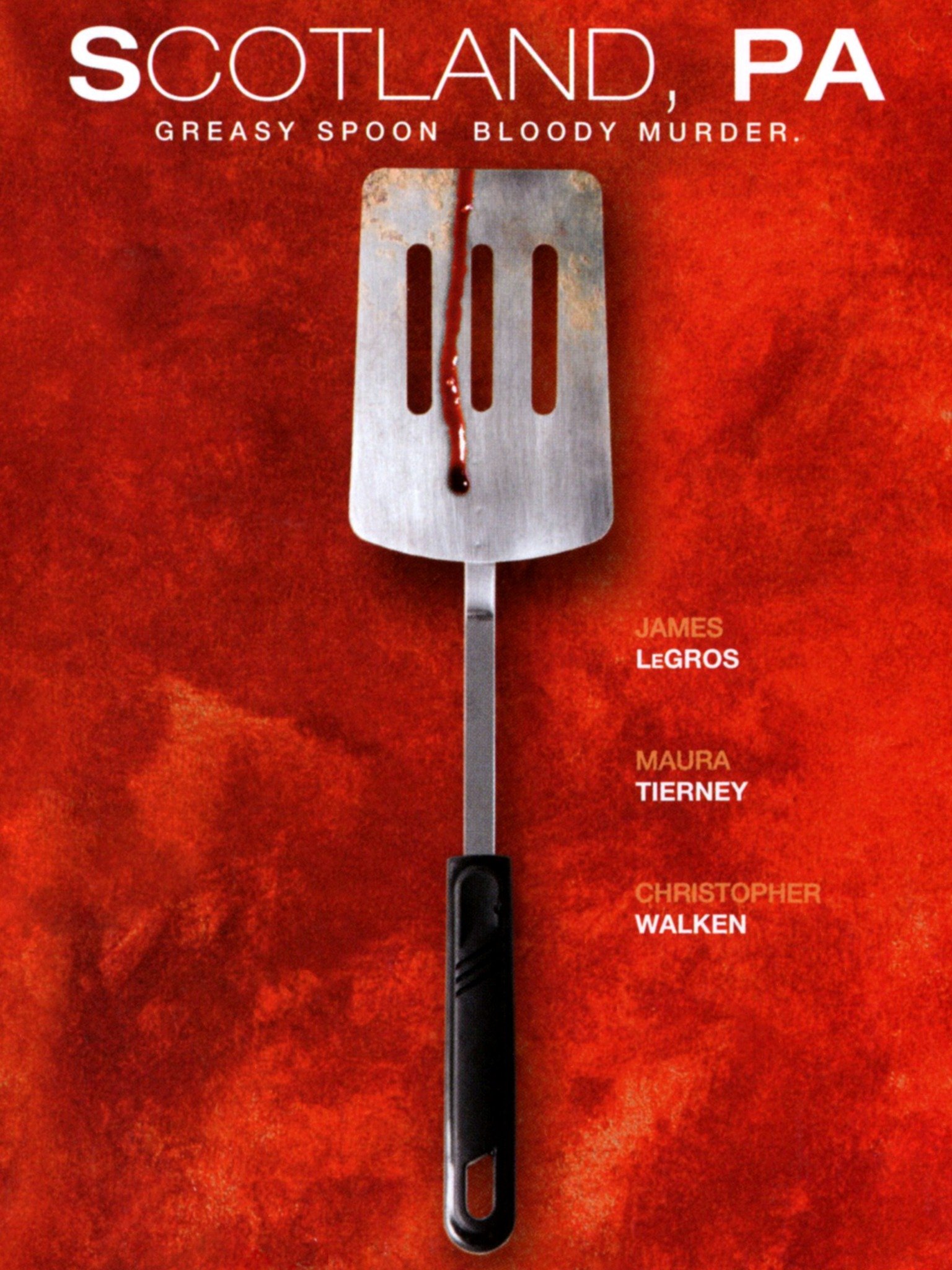 Summary: Not worth watching. It's both boring and chaotic, too long and yet not fleshed out enough. Perhaps the musical is worth experiencing, but the film is a hard pass.