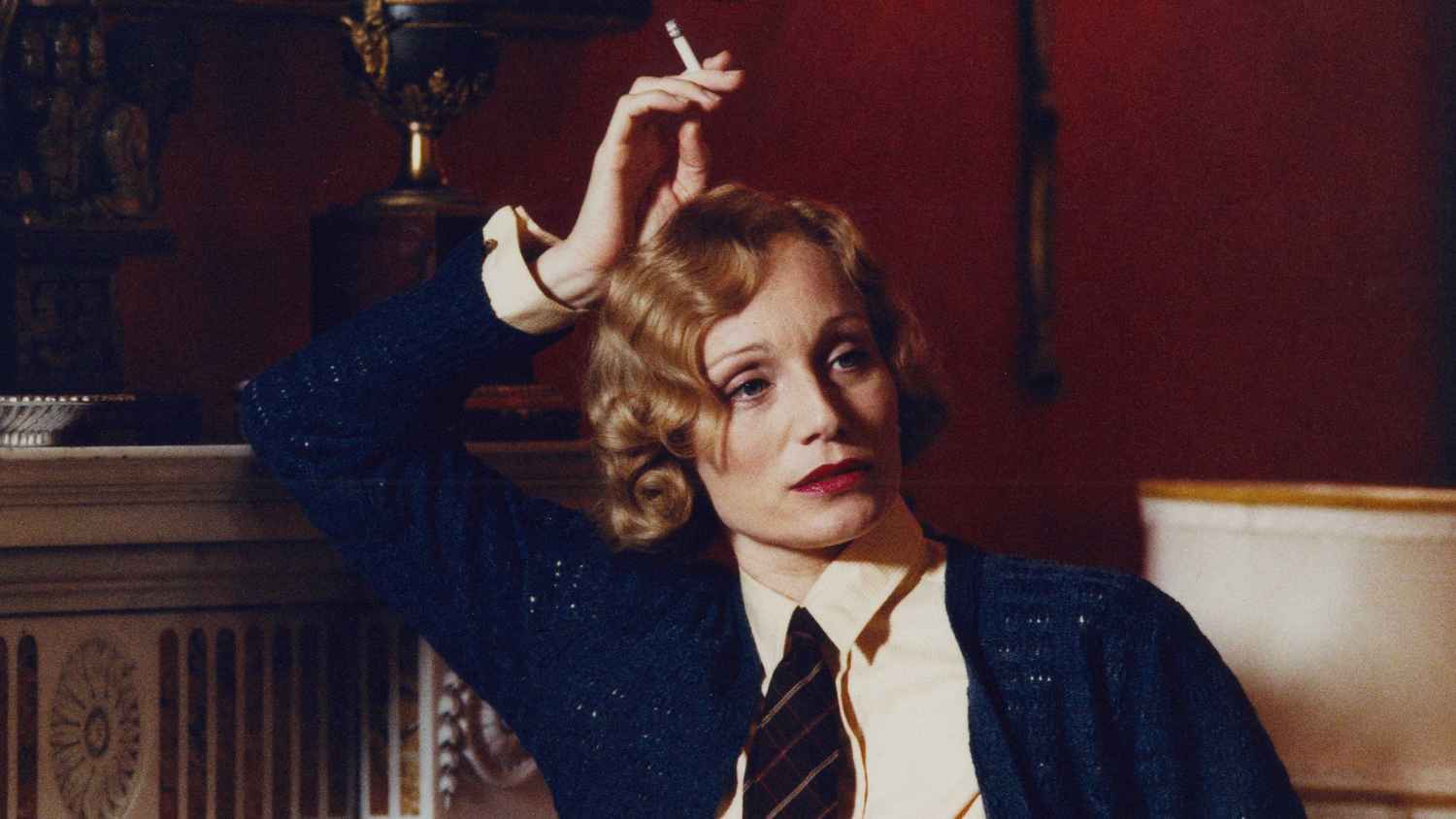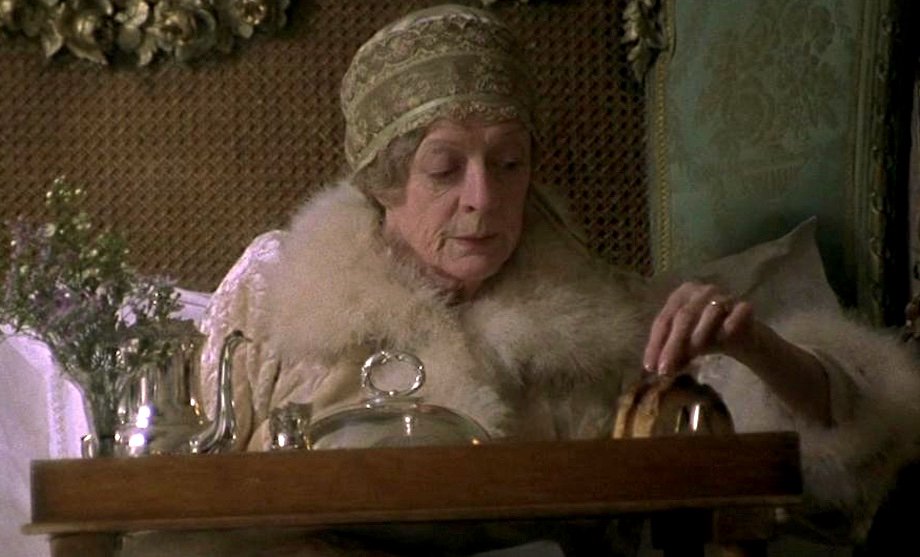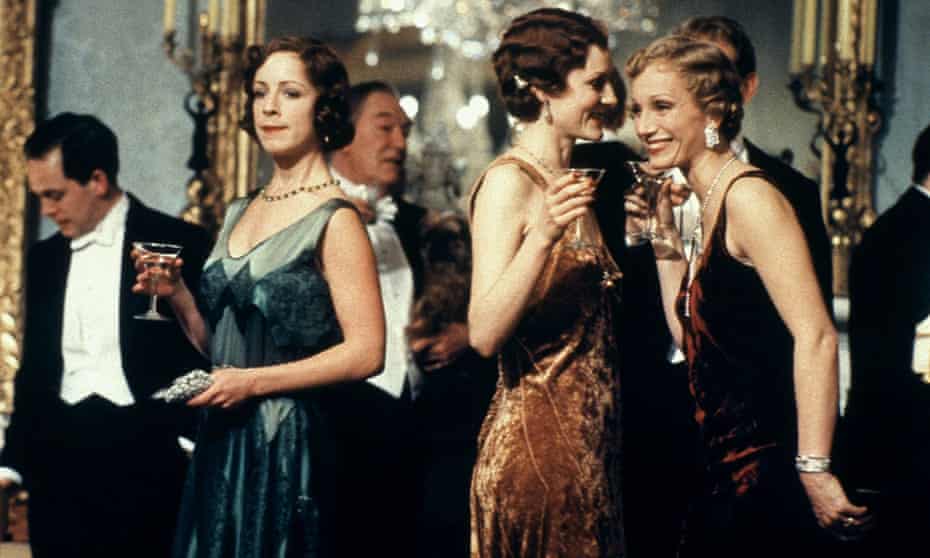 "Gosford Park" (2001) directed by Robert Altman, written by Julian Fellowes (of "Downton Abbey").
"Gosford Park" was based on a French film that came out in Jean Renoir's French classic, "La Règle du jeu" ("The Rules of the Game") which came out in 1939.
Development on "Gosford Park" began in 1999, when Bob Balaban asked Altman if they could develop a film together. Balaban suggested an Agatha Christie-style whodunit and introduced Altman to Julian Fellowes, with whom Balaban had been working on a different project.
Characters and cast:

Above stairs
Sir William McCordle (Michael Gambon), a wealthy industrialist and baronet, who owned two factories in Isleworth and two in Twickenham; most of the employees were working class women.
Lady Sylvia McCordle (Kristin Scott Thomas), Sir William's wife, daughter of the Earl of Carton, an old but impoverished family.
Isobel McCordle (Camilla Rutherford), daughter of Sir William and Lady Sylvia.
Constance, Countess of Trentham (Maggie Smith), Lady Sylvia's aunt.
Raymond, Lord Stockbridge (Charles Dance), Lady Sylvia's brother-in-law and married to Louisa.
Louisa, Lady Stockbridge (Geraldine Somerville), Lady Sylvia's younger sister.
Lt. Commander Anthony Meredith (Tom Hollander), is broke and desperate, and married to Lavinia.
Lady Lavinia Meredith (Natasha Wightman), Lady Sylvia's youngest sister.
The Hon. Freddie Nesbitt (James Wilby)
The Hon. Mabel Nesbitt (Claudie Blakley) daughter of a glove factory owner, grew up in Leicester, and married to Freddie, who only married her believing her to be wealthy.
Ivor Novello (Jeremy Northam), Sir William's cousin who is also a British matinee idol and film star.
Morris Weissman (Bob Balaban), American film director, friend of Ivor Novello.
Lord Rupert Standish (Laurence Fox), Isobel's boyfriend, and penniless younger son of a marquess.
Jeremy Blond (Trent Ford), friend of Lord Rupert.

Below stairs
Kelly Macdonald as Mary Maceachran, lady's maid to Countess of Trentham
Clive Owen as Robert Parks, Lord Stockbridge's valet, grew up in an orphanage in Isleworth, London, worked for Earl of Flintshire as a footman previously.
Helen Mirren as Mrs Wilson, Housekeeper
Eileen Atkins as Mrs Croft, the cook
Alan Bates as Mr Jennings, butler
Emily Watson as Elsie, head-housemaid
Derek Jacobi as Probert, Sir William's valet
Richard E. Grant as George, first footman
Jeremy Swift as Arthur
Sophie Thompson as Dorothy, Still-room maid
Meg Wynn Owen as Lewis, lady's maid to Lady Sylvia
Adrian Scarborough as Barnes, valet to Lt. Commander Anthony Meredith
Frank Thornton as Mr Burkett
Frances Low as Sarah, lady's maid to Lady Lavinia Meredith
Ryan Phillippe as Henry Denton, American actor, posed as valet to Morris Weissman.

Visitors
Stephen Fry as Inspector Thompson
Ron Webster as Constable Dexter
FUN FACTS:
The camera is ALWAYS moving even if just slightly in every single shot as requested by Robert Altman.
Theres always a servant present in each scene.
As a request of the director, the F-bomb was gratuitously sprinkled in on purpose to get the R-rating – in the DVD commentary he said that he did this because he didn't think kids would like the movie so he wanted to keep them out – especially fourteen year old boys.
To maintain authenticity – none of the servants wore any movie makeup, but they did wear conventional make up like lip stick occasionally.
All the jewelry worn by the upstairs ladies was all authentic and so expensive that it had to be escorted in by armed guards each day!
The wallpaper for Lady Maggie Smiths room was all hand-painted and imported from France.
In some true savagery – especially for a movie that makes a stink about vegetarianism – there is no animal rights tag in the closing credits of the movie and that's because the shooting scene was filmed with real birds and those birds were really shot.
Kristen Scott Thomas apparently was difficult on set – and again she plays the stone cold Lady Sylvia. When talking about this rumor, she admitted to it, saying that she thinks she was just subconsciously still in character.
When referring to Ivor Novello's film "The Lodger" as a "recent film" in 1932, and also as a box-office flop, many people thought this was a mistake. But, in fact, this isn't a mistake, as the real Ivor Novello was in two films called "The Lodger" – not only the silent classic directed by Alfred Hitchcock (The Lodger: A Story of the London Fog (1927)), which was a huge hit in 1927, but a sound remake (also called The Phantom Fiend (1932)), directed by Maurice Elvey and, indeed, released in 1932. That version was, as stated, a huge flop.
There really was a movie called Charlie Chan in London (1934), and it was a mystery set in an English manor house. While it featured Alan Mowbray and Ray Milland, it was produced by John Stone, not Morris Weissman (a fictional character).
Godsford Park was a hit and that year it became the only Best Picture Oscar nominee to also be nominated for best original screenplay.
Sources/Further Reading or Listening:
https://m.imdb.com/title/tt0280707/trivia/?ref_=tt_trv_trv