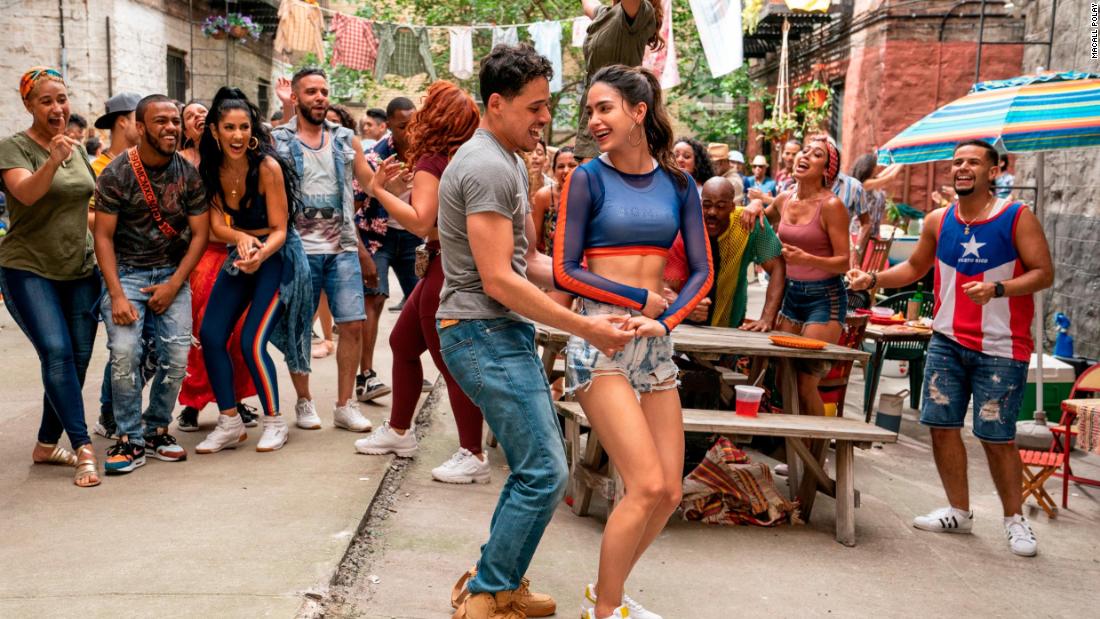 Tribeca Film Festival Screener #1:
"In the Heights" (2021) is the on-screen adaptation of the popular stage musical of the same name by Quiara Alegría Hudes and Lin-Manuel Miranda, which was directed by Jon M. Chu (who previously worked on "Crazy Rich Asians"), with a screenplay by Hudes, with Miranda as a producer and the primary creator of the music, and stars a slew of young Latin American performers. Anthony Ramos (who also played a key role in "Hamilton") plays the lead role of Usnavi, a young bodega owner who dreams of reviving his late father's business in the Dominican Republic, and whose viewpoint and storytelling is used to give the audience a vantage point of the film. He has a long-standing crush on Melissa Barrerra's character, Vanessa, who is working to become an accomplished fashion designer and get an apartment of her own. Meanwhile, Corey Hawkins is Benny, a hardworking employee of his ex-girlfriends fathers taxi company, and Leslie Grace, who plays Nina Rosario, the aforementioned ex who has just returned from her time studying at Stanford and is wrestling with her urge to leave school and the guilt associated with doing so.
Though most of the main characters are new to the big screen, some incredibly recognizable faces are scattered throughout the film. Dominican-American actress Dascha Polanco, known for portraying the role of Dayanara "Daya" Diaz on the Netflix series "Orange Is the New Black," plays one of the neighborhood salon ladies, Cuca. Another is played by Panamanian-American dancer, singer-songwriter, and actress, Daphne Rubin-Vega, who is best known for originating the roles of Mimi Marquez in the Broadway musical "Rent" and Lucy in the Off-Broadway play "Jack Goes Boating." Frequent Lin Manuel Miranda collaborator Christopher Jackson (Bull from "Hamilton") played Mister Softie, who has some comical exchanges with LMM himself who makes a cameo playing the neighborhood snow cone concessioner as they compete for business on the block. The West Wing (among other things) star, Jimmy Smits, stars in a lead role as the patriarch of one of the primary storylines "In The Heights," Kevin Rosario, who runs the taxi company and struggles with financially supporting his daughter who is attending an Ivy league university. Lastly, a nearly unrecognizable Marc Anthony plays a drug-addicted father figure of one of the young teens in the neighborhood.
Finally, the most notable character who brings everyone together is Abuela Claudia, played by Olga Merediz, who, despite not being a blood-relative takes on the role of acting abuela, grandmother, of the entire community neighborhood. Raised in Cuba, she spends time during the film reminiscing on her childhood there, her transition to New York and her hardships and delights along the way.
What Worked:

As a whole, this film worked exceptionally well. Initially, there was a lot of buzz, and though, I enjoy musicals, particularly the ones with the pizazz and darkness of "Moulin Rouge!" (2001), this one felt like with such polished cinematography and tightly choreographed dance numbers, I was sure it would end up being cheesy or artificial. However, right from the jump, it was clear to me that I was wrong. There was so much sincerity and insight in the storytelling and the message, and the characters were written with depth and specificity, despite relying on song over dialogue to tell much of the story. It was fantastic. Here are a few touchpoints that were particularly special:
The scene where the community naturally gathers at Abuela's after a night out at the club, filing in one by one over the course of the night, sharing leftover food, Coca-Cola, playing Bingo and catching up on their various experiences in the hours prior. Not to mention, there is an electrical blackout, forcing everyone to light candles and come home earlier than expected, and there is something so magical about this scene.
The song sung by Leslie Grace as she reflects on being one of the "lucky ones" from the neighborhood for getting out of 'the heights, financial guilt, breaking away from her family's expectations and what she values the most: it's so powerful and serves the story to give insight into the complicated feelings around finding the type of success that your loved ones were not given the opportunity to find.
"The salon ladies" – Daniela, Cuca & Carla (Daphne Rubin-Vega, Dascha Polanco & Stephanie Beatriz respectively) – bring such a vibrancy to the film and their energy feels very New York, but also their storyline is so important. It reflects on the harmful realities of gentrification and how that affects the livelihood and experiences of real people.
The songs, which embrace a similar cadence as the majorly successful "Hamilton," were all catchy, informational and had a poignant message.
Mistakes Were Made:
The film experienced a wave of backlash following its release due to the absence of Afro–Latino actors which prompted conversation about the issues around colorism in media representation. It was prompted by an article by The Root, and then a follow-up video interview with filmmakers and cast. Puerto Rican actress and EGOT winner, Rita Moreno also entered the conversation. She caused controversy when she defended Miranda, saying, "You can never do right, it seems. This is the man who literally has brought Latino-ness and Puerto Rican-ness to America. I couldn't do it. I mean, I would love to say I did, but I couldn't." It is understandable after her experiences over a 70 year career in the film industry, fighting to have even just white passing Latino actors on screen to see the representation that was seen with this cast, as opposed to lamenting what was not. However, she later took to Twitter to express her regret, saying she was "dismissive of black lives that matter in our Latin community" while trying to support Miranda. She continued, "I'm incredibly disappointed with myself. It is so easy to forget how celebration for some is lament for others."
Lin Manuel Miranda addressed the issues of colorism in his film right away, writing a message of apology and a vow to do better.
Message from Lin Manuel Miranda via his Instagram account, following the backlash: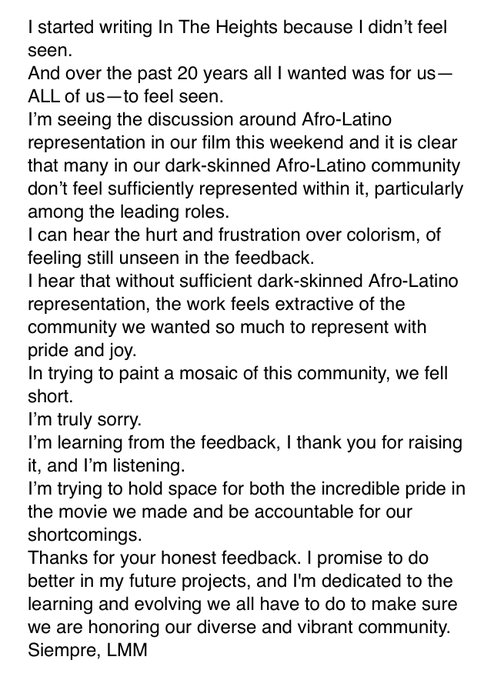 Fun Facts:
Director Jon M. Chu named his son, who was born during filming, Heights after the film's location.
Olga Merediz, who played Abuela Claudia, was actually reprising her original role – she played Abuela Claudia on Broadway.
"It is surreal for me, absolutely surreal," said Merediz. "It's kind of a miracle that they […] allowed the theater actress to do her role in the movies. You know, they usually give it to the Meryl Streeps of the world. And for me, it's like somebody hit me with a magic wand. I feel so privileged and blessed, and I – I can't believe it, I can't believe it. And I'm just so humbled by it."
Lin-Manuel Miranda started writing 'In The Heights' when he was a sophomore in college. When the show made it to Broadway in 2008, he was working as a substitute teacher.
He blew up with Hamilton, but this was his original work.
Lin-Manuel Miranda got emotional during the filming of 'Carnaval del Barrio' as that was a real courtyard in Washington Heights.
"It was super hot. We only had one day to shoot it. There were like 150 extras. But I'm struck because I remember looking up and seeing Lin-Manuel. He was watching from a fire escape, watching down," said Jimmy Smits, who plays Kevin Rosario.
"I call cut, and nobody stops dancing," said Chu in an interview with Seattle Refined. "Everyone just keeps going. They have their flags out. They're jumping up and down. They're singing 'No music, bop, bop,' 'No music bop, bop, bop.' And Lin comes out on the fire escape because that's where he is, we have a camera on his character. He can't get anywhere, so he's looking down on them. And they all look up at him, and they are chanting 'Lin, Lin, Lin,' and he's just starting to bawl. Everyone is starting to cry. The crew, the cast, the extras are all chanting 'Lin' because he manifested this. He couldn't get a role for himself, so he wrote himself a role. He wrote his community a role."
5. The decision to shoot the "96,000" number in the massive pool was spontaneous.
"The Highbridge pool where we do '96,000' — that was not scripted. That was something where we were in the neighborhood and looking at different locations, and Quiara said, 'That's our public pool.' And we're like, 'Let's go see it.' When we opened that door and saw those pools it was like, we have to do '96,000' there.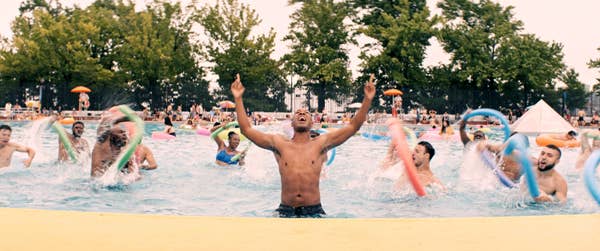 Costume Design/Cosplay Opportunities:
Costume design by Mitchell Travers – As most of the clothes seen in the film were streetwear, there is not a ton of costuming that would stand out as a Halloween look or cosplay piece, but there is plenty there to inspire everyday looks.
My favorite outfit from the film is this sheer top, pony with hoops, and jean shorts seen on Vanessa during the courtyard number.
Film + Food and/or Drink Pairing:
No question, this movie should be paired with Latin cuisine. If you're lucky enough to live in New York City, it could be worth cruising up to Washington Heights where the film takes place, hence "in the heights"), and try any one of these recommended Dominican, Puerto Rican, Mexican, and more restaurants in the area.
Check out this breakdown of all the best spots put together by The Infatuation.
Another great option is to make sure you get a soft-serve cone from the nearby Ice Cream truck (does your neighborhood also have a Mister Softie?) or snow-cone, classic summer treats.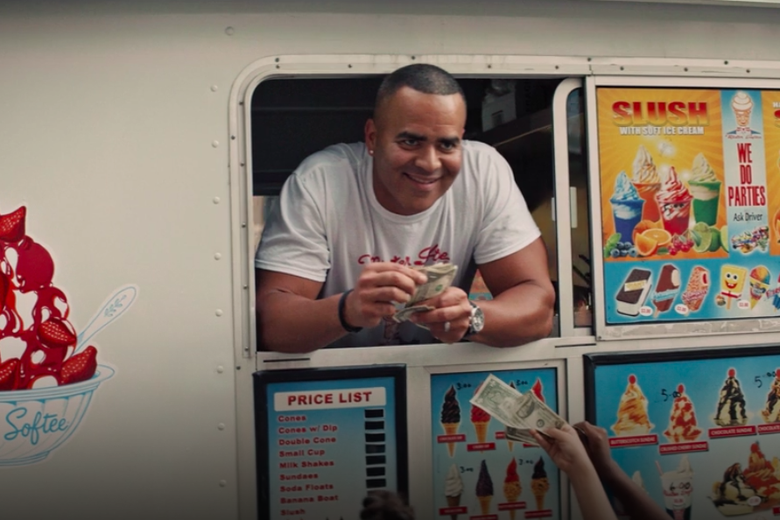 Lastly, the cast and crew of the film spoke with Oprah about what they would bring to the block party, and there are plenty of inspiring dishes to glean from their answers in the article:
"In the spirit of Benny, his In the Heights character, Corey Hawkins said he'd bring some soul food, like his mom's collard greens. Melissa Barrera, who was born and raised in Mexico, would bring"a trompo al pastor, with someone taking the meat off for tacos al pastor," she said. Screenwriter Quiara Alegría Hudes said, since it was a hot day, she'd bring a cold dish like ensalada del pulpo, or octopus salad."
Full piece found here:
https://www.oprahdaily.com/entertainment/tv-movies/a36692107/in-the-heights-food/