Cinematic Breadcrumbs ELVIRATOBER Pt 4: "Messiah of Evil" (1973) –
Girls, Gore, and a Lovecraftian Giallo
Lovecraftian horror or sometimes called "cosmic horror" is a subgenre that predicates itself on the unknown or incomprehensible – you might have heard of this term more recently in relation to the HBO drama series "Lovecraft Country" which takes place in Jim Crow America as a group of friends "struggle to survive and overcome both the racist terrors of white America and the terrifying monsters that could be ripped from a Lovecraft paperback"
Lovecraft paperback refers to the works of H.P. Lovecraft who was an American writer of weird, science, fantasy, and horror fiction. Lovecraft is best known for his creation of a body of work that became known as the Cthulhu Mythos.
Cthulhu (Kah-thoo-loo) Mythos refers to the mythopoeia or fictional shared universe that Lovecraft created, and all the monsters that live there.
The term was coined by August Derleth, a contemporary correspondent and protégé of Lovecraft, to identify the settings, tropes, and lore that were employed by Lovecraft and his literary successors. The name Cthulhu derives from the central creature in Lovecraft's seminal short story "The Call of Cthulhu", first published in the pulp magazine Weird Tales in 1928.
H.P. Lovecraft:
Some of our favorite drag queens on the show – like Shangela and Monet X Change in Lovecraft Country:
Giallo is the word for a period of Italian horror cinema that used a mystery as its main plot device, often portrayed women as the victims and incorporated sex and violence, sometimes tied together and making the scenes of extreme gore slightly erotic, sensual or sexualized.
The word giallo is Italian for yellow. The term derives from a series of cheap paperback mystery and crime thriller novels with yellow covers that were popular in Italy.
In the context of 20th-century literature and film, especially among English speakers and non-Italians in general, giallo refers specifically to a particular Italian thriller-horror genre that has mystery or detective elements and often contains slasher, crime fiction, psychological thriller, psychological horror, sexploitation, and, less frequently, supernatural horror elements.
Some would say Mario Bava's "Blood and Black Lace"(1964) was one of the first true Giallos. That movie and "Black Sabbath" (1963), also titled "I tre volti della paura" which means "The Three Faces of Fear," is another one of his that kicked off the genre (though this was in black and white vs. color which limited the elements that are consistent with the movie genre – like color motifs).
These are also two of my favorite of the genre all together. Those and Dario Argento's "The Bird with the Crystal Plumage" (1970) "Suspiria" (1977) and "Opera" (1987).
All are a bit meandering and slow, but rich with visuals, well-crafted mise on scene – which means the way a scene is set up, and gothic sets dripping with color motifs, decadent interiors and beautiful women at the focal point.
The film "Messiah of Evil" incorporates elements of both, and was also heavily inspired by the 1968 hit film "Night of the Living Dead" – a movie about zombies that got inspiration for the script from Richard Matheson's 1954 novel I Am Legend – which of course eventually became the direct basis for the 2007 movie of the same name starring Will Smith.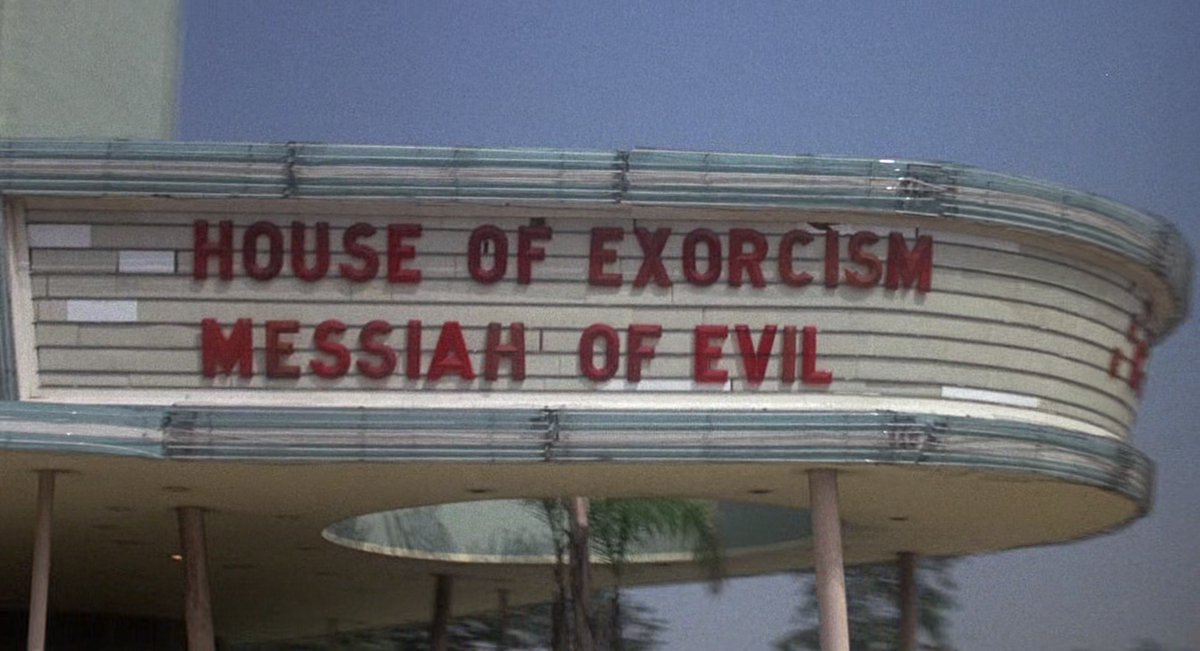 Pictures from Elvira's Memoir:
Sources/Further Reading:
"Yours Cruelly, Elvira: Memoirs of the Mistress of the Dark" by Cassandra Peterson
Wikipedia pages and associated articles –