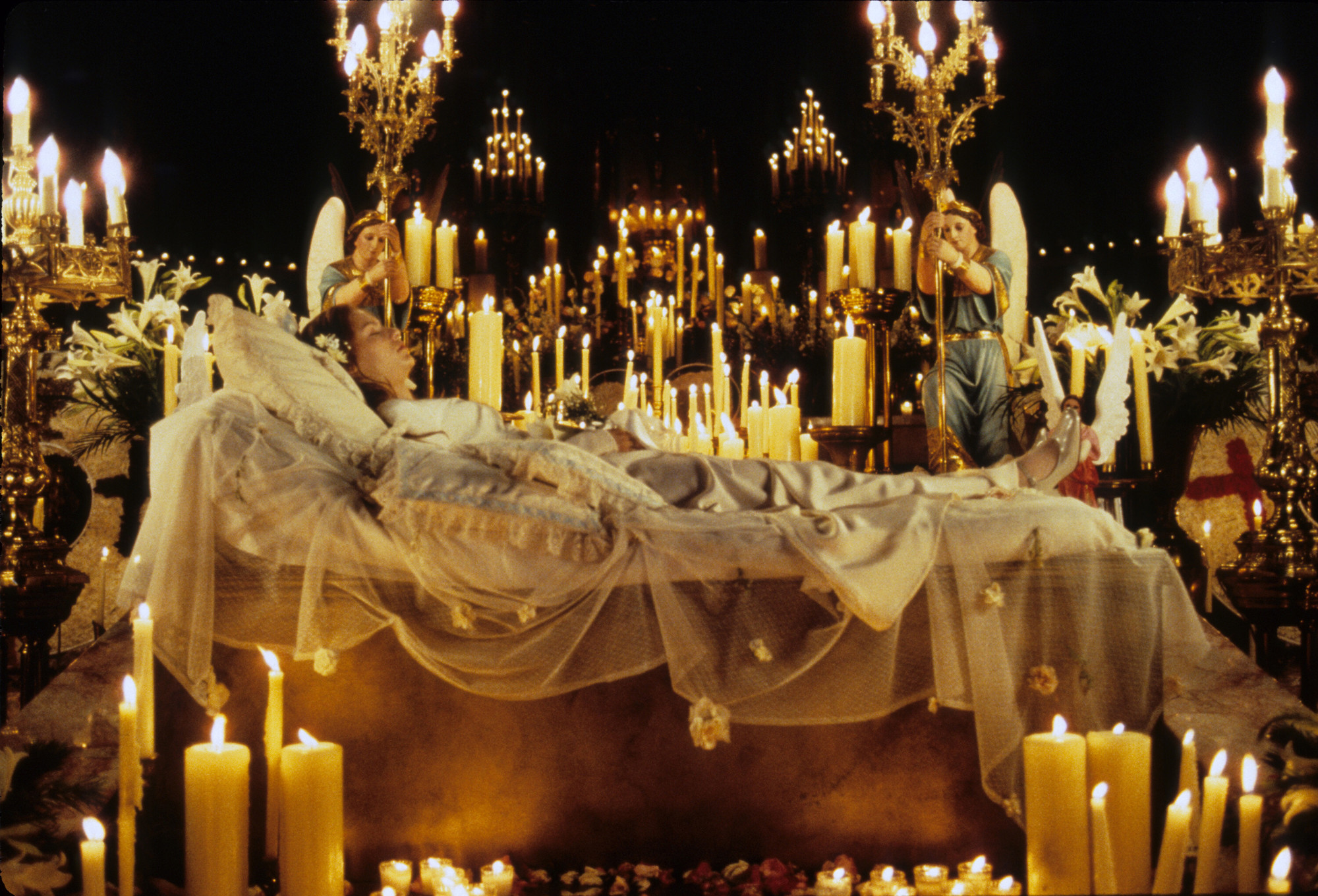 Shakespeare Series #5:
"Romeo + Juliet" (1996) is Baz Lurhmann's theatrical, glitzy and gritty modern take on Shakespeare's most famous tragedy of the same name. He boldly keeps the script in the classic Shakespearean tongue while its delivered through heartthrobs of the 1990's, set in a non-descript Californian almost dystopian city, named Verona Beach. The Italian city of Verona is featured in the classic play, but this is designed to look more like Venice Beach in Los Angeles.
This is a beloved version of the film, which has been remade and readapted plenty of times (one of them being "West Side Story" which will also be covered in this series), is unique to that it is the only one (to my knowledge) that modernize the setting while keeping the original "script." Part of its intrigue is that a fresh faced Leonardo DiCaprio leads as Romeo, just before he went on to blow up after starring in the film "Titanic." He performs alongside Claire Danes (at this time best known for "My So Called Life" with Jared Leto), as well as Paul Rudd (as Count Paris), John Leguizamo (Tybalt), Paul Sorvino of "Goodfellas" as Capulet, Pete Postlethwaite (as Friar Laurence), and Jesse Bradford of "Bring It On" as Balthasar. The chaotic experience that is this film works for some, and probably not others, but it can't be denied that the ingenuity and creativity endures in the minds of its viewers. It swept the floor at the 1998 BAFTA's, as well, raking in the award for Best Direction, Best Original Score, Best Production Design, and Best Adapted Screenplay.
What Worked:
The chemistry between Danes and DiCaprio is magnetic. All of the acting performances were excellent.
The use of the original language is a toss up… in some ways the impressive feat is incredible because it helps one to learn and understand it in a way that has often not been experienced. However, it also unfortunately distances the audience from the emotion of the story if their energy is spent on struggling with the lines.
Despite being known as a rough and tough gangster, Paul Sorvino had trained experience on the stage and chose to do his lines in its most authentic form: iambic pentameter, and he did so without missing a beat.
The set design that manages to feel both mythical and contemporary, urban and small-town, and seems to avoid being defined by any era, is incredible.
Incorporating songs like Lovefool by the Cardigans, Kissing You by Des'ree and Talk Show Host by Radio, the films soundtrack was exceptional and did what it should in elevating the film.
Costume design. See more at bottom of article.
The moody lighting and candlelit moments were beautiful, experiential and inspiring.
Mistakes Were Made:
The sound design and abrupt cutting between loud action sequences, the films soundtrack and quiet conversational moments was so jagged that it felt like in order to hear the dialogue, the volume needed to be cranked up two fold, and then immediately brought back down a second later. It resulted in feeling like a chaotic and overwhelming experience. This is okay, except it makes the film as a whole incredibly less rewatchable.
WHY DID THEY HAVE TO DIE! Such a senseless irrational jump for both parties. You can't give it a few minutes before making conclusions?! Horrible ending.
I know, that's how it was written & it would be ridiculous if that was changed. I kid. But could they not have ever given us a young Leo love story that didn't end with me wailing?
Fun Facts:
The origin of the film was Baz Luhrmann wanting to prove that Shakespeare wasn't for snobs only.
"The thing I really set out to do was to smash what I call 'club Shakespeare,'" Luhrmann said in an interview with ScreenSlam. "[The idea that] you have to be a member of the club to understand it. This 26-year-old writer wrote this fantastic play so that everybody could understand it, so that everybody could be affected by it."
Leonardo DiCaprio was so passionate about the project that he flew to Australia on his own dime to help get the movie made.
As previously mentioned, this was before "Titanic" so the lesser known DiCaprio had to fight hard to help Luhrmann convince the studio to support the project.
"He cashed in his business-class tickets so he could bring his friends, and he stayed in Australia for no money at all," Luhrmann explained in an interview with SFGate. "He did a video workshop, so we could persuade the studio to do it. He was extremely passionate about it."
Natalie Portman was slated to play Juliet before they realized that she looked (and was) far too young for that role.
At the time, the 14 year old Portman got the part and made it all the way to rehearsals before executives found the pairing problematic. When talking to the New York Times, Portman said, "Fox said it looked like Leonardo DiCaprio was molesting me when we kissed." That's probably a good decision in the end since he was 21 years old.
4. The billboards throughout the film have secret Shakespeare quotes.
Nearly ever scrap of writing that is seen onscreen throughout the film contains a Shakespeare reference.
There is a sign for Montague Construction with the motto "retail'd to prosperity" on it, a reference to Richard III. There's a slogan for a company called Phoenix Gas, which reads "Add more fuel to your fire" from Henry VI, Part 3. There is a bank called Shylock which is a name for The Merchant of Venice. The newspaper nearby references Richard II saying, "A rash fierce blaze of riot." This is all just in the first moments of the film.
5. The final scene in the film references another pair of lovers with the same tragic star-crossed tale: Tristan und Isolde.
Tristan und Isolde is a medieval opera about a doomed couple by Richard Wagner, which includes a classical composition called "Liebestod" which Luhrmann intentionally picked in the final tragic scene where the leads die as an homage. "Liebestod" means "love death" afterall.
In 2006, James Franco and Sophia Myles starred in the film version of the tale, which updates the tale and sets it just after the fall of the Roman Empire. (I highly recommend – if my young teenaged hopeless romantic memory is correct).
Costumes/Costume Ideas:
All of the costumes in the party scene reflect the archetypes of the characters wearing them: Juliet is the angel, Count Paris is the astronaut; the hero, Tybalt is the Devil, Gloria Capulet is Cleopatra, Mercutio is a Drag Performer representing the themes of fantasy, sensuality, pleasure.
The costumes are particularly phenomenal and deserve to be discussed in more length, so please go listen to Fishnet Flix podcast for that full breakdown. For my part, I will just give a shoutout to this specific moment which seems to be the most popular and widely recognized costume moment from the film.
Extra reading/listening:
https://www.mentalfloss.com/article/84077/12-star-crossed-facts-about-romeo-juliet
https://podcasts.apple.com/us/podcast/episode-135-romeo-juliet-1996/id1406484153?i=1000511069813